The road one follows in life is paved with influence from family, peers, faith, and fate, while traveling forward leaves behind a wake representing our legacy. Recognition of an individual is sometimes blurred without a full vision of the road traversed, so that is why I present to you Dr. Gregory Jenkins.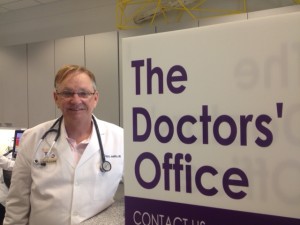 His parents came from Oklahoma, with his father, a descendent of the Chickasaw Nation, forging a career in the military protecting our country Not settling long enough to establish roots, Dr. Jenkins kept a packed Samsonite next to his bed as they lived throughout the world. His brothers Mark and Bill, as a part of that legacy, would later serve in the U.S. Air Force.
Paving his own road eventually led Dr. Jenkins to Santa Clarita where he was in the first graduating class of College of the Canyons. He transferred to UCLA, and then went on to Washington University in St. Louis for his medical education. Returning to Southern California, he completed his training in residency at UCLA, and married.
He and his wife, Michele, have two children. Gregory Jr. is an English teacher in San Jose. Lorian is a clinical research coordinator at Boston's Children Hospital. Her name is derived from her grandmothers, combining Lorene and Lillian, linking the past to the future. This link, ironically, finds Michele presently serving as President of the College of the Canyons Board of Trustees.
As the founding partner of "The Doctors' Office" in Santa Clarita almost three decades ago, they have won multiple awards and set the medical standard as the "Best Practice" in our community.
At Henry Mayo Newhall Hospital, Dr. Jenkins has served two terms as Chief of Staff, guiding physicians in their quest to maintain self-governance and independence from administrative business interests. As a physician and leader, he feels "communication is important in sustaining high quality patient care at our hospital, with doctors protecting and nurturing healthcare for our community."
Dr. Jenkins belongs to the "Flying Samaritans" and "Liga International – Flying Doctors of Mercy" and goes to the state of Sinaloa in Mexico bringing healthcare expertise to that community. He is a true humanitarian.
The Jenkins' legacy is derived from ancestors long before the Revolutionary War, but have touched on many continents before establishment in our valley. The road Dr. Jenkins took in life brought him to our doorstep.
His family serves our nation from east to west coast, as well as locally. He has maintained high standards of care leading doctors in their quest for quality medical services, while bringing his expertise to other countries.
Thankfully, the road Dr. Gregory Jenkins traversed created a legacy significantly linking and impacting the Santa Clarita Valley to sustain us now and in the future.
Gene Uzawa Dorio, M.D.