Before the renowned Green Berets became an organized group, the Army during WWII brought together soldiers forming special forces to covertly work behind enemy lines. Robert "Bob" Illson became a member of that elite force, and is now 92 years old living in Santa Clarita.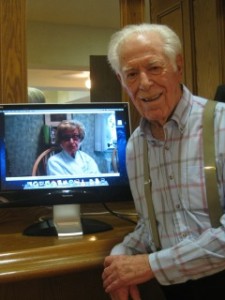 Fighting in the Pacific arena united several countries attempting to push back the Imperial Army of Japan. From the west, our ally China fought a land battle which required supplies, but was cut off by the enemy. The U.S. Army organized to open the roads through Burma (now known as Myanmar) to bring the Chinese Army those armaments.
Most soldiers go through six weeks of "boot camp." For Bob, it was training for 1 year in technical skills and jungle warfare. He was told he was being recruited to "fix radios", but his background and intelligence proved otherwise.
He was born in the borough of Manhattan in New York City and states "I was not a good student." Working for Western Electric when WWII started, the Army tested his IQ which was 183, and put him in the "enlisted reserve" while enrolling him in the RCA School. With a physics and mathematics background, he was further "educated" with the Army moving him to Denver, before sending him overseas.
For anyone who knows Bob Illson, he has a repertoire of jokes and one-liners that could compete with Sid Caesar or Milton Berle, and his quick wit comes with no delay. As his family and I spoke to him about his military service, he reminded us of his perfect long-term memory. But once we asked of his Burma experience, much of his responses were selectively scanty, permeated by long pauses skirting answers that are only historic today.
Unfortunately, most returning soldiers rarely speak of their exploits…even to family. War is an inhumanity against man, but Bob's experience did not seem to cast a shadow of broken emotions. Whether his scattered information was from events 70+ years ago, subconscious blockage of traumatic memories, or upholding a long ago pledge not to reveal this information…we did not know. Sometimes, this is the nature and character of many soldiers who quiescently serve our nation.
Other than giving us details about cleaning up after their mules, he did reveal a scary and threatening moment when he was wounded by exploding shell shrapnel. Initially unconscious, bleeding, and unable to hear, he called out for the medic. Sensing movement toward him, he realized this might make him a target, so he stopped and waited, hoping for rescue as opposed to capture. He was rescued, hospitalized, and after surgery and recovery, went back to the war where he knew he was needed.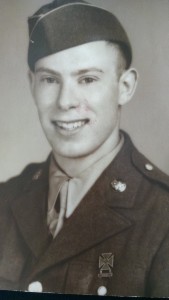 He was discharged in 1945, came back to his wife Bette who he had married in 1943, raised two daughters (Suzy and Sandi), and now has 5 grandchildren and 10 great grandchildren. His work as an engineer with Lockheed, Hughes, Xerox, and RCA, finally led him to retirement in Santa Clarita. Bette, the love of his life for 70 years, passed away in 2007, and he now resides at a Newhall senior apartment, The Willows.
At the conclusion of our talk, my final question was "How many radios did you fix when you were in the Army?" Again, after hesitancy and a long pause, he raised his finger…"one."
Once a soldier, always a soldier.
Gene Uzawa Dorio, M.D.