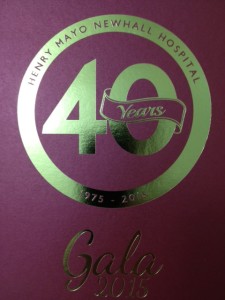 Henry Mayo Newhall Hospital (HMNH) is in its 40th year of service to this community, but now as a business enterprise, those in charge recently celebrated the "Gala Anniversary" where nurses and doctors were not invited.
Chief of Staff, Dr. Cecelia Hann, at several meetings before the event asked the CEO why members of the Medical Executive Committee (MEC) – doctors elected by their peers to represent them – were specifically not invited.  As the fog in the room thickened, his answer was it was an oversight and unfortunately the Gala was sold out.  Adding more to the smoke are ten physicians who have been on staff since the doors opened but were not being honored.
Several months ago as I drove into the hospital, I noticed an elderly woman sprawled on the ground at the exit of the parking garage, her wheelchair next to her.  Quickly I pulled to the curb, put my emergency flashers on, and ran to aid her.  Assessing her condition, I was joined within seconds by nurses, physical and pulmonary therapists, CNAs, and other ancillary hospital workers.  Within 5 minutes, a gurney arrived from the emergency room, and she was on her way for further medical attention.     
The driver of the stopped vehicle exiting the garage was the hospital CEO.  He waited, and even offered his car windshield sun visor to put under her head.  In reality though, he was only an observer, as our team worked to give the patient assistance.  Who really provides services and care at HMNH?  Staff or administration?
Answer:  It is a team effort.  The backbone though of every hospital are physicians, nurses, and the many groups trained and organized to give medical care.  When an NFL football team wins the Super Bowl, you will never hear them say it was because of management and not mention their players on offense, defense, and special teams.
Four weeks before the Gala, Robin and I received an invitation from our friends Reena and Tony.  Their last name is Newhall, and it is not a coincidence they would be at this event.  We sat in front of the stage and podium, and watched a professionally choreographed evening with a TV personality emcee, and even teleprompters.  Some of my medical colleagues were there as their organizations are contracted with the hospital.  But otherwise, it was community donors who were being solicited to give to the upcoming hospital "capital campaign."
Therefore, in trying to defog the room, the reason why the administration did not want the MEC at this event is because they have been the most outspoken dissenters against hospital deception and could ruin the show.
The hospital is trying to raise money to build a new hospital tower with more beds.  But despite the number of new services offered, the smoke and fog of deception hiding statistics puts patient care at risk creating smog, which eventually will choke this community.  Members of the MEC have tried to expose these blatant problems while being bullied by this administration.  Certainly, we want more hospital beds, but not with superficial services that jeopardize patient care.
I don't see many hospital supporters understanding our position.  Physicians though are on the frontline of treating patients, and yes, sometimes even in front of the parking garage.  Takeover of vital committees that should be overseen by doctors have now put decisions and statistics into administrative hands.  The community should fear they will make business decisions for your medical problems.
Physicians have been responsible for providing medical care to this community, and since this was not mentioned at the Gala, I want to honor these doctors still on staff who have established our reputation for the past 40 years:
Dr. Douglas Gadowski – cardiologist
Dr. Jerry Garrett – urologist
Dr. Larry Leiter – family practice
Dr. David Mysko – family practice
Dr. Arthur Vatz – urologist
Dr. Arnold Barton – ophthalmologist, and first Chief of Staff
Dr. John Cocco – internist
Dr. Allen Karz – cardiologist
Dr. John Kaufman – orthopedist
Dr. Larry Sherman – pediatrician
We thank them for their four decades of service and professionalism.
Should the Santa Clarita Valley face a catastrophe like an earthquake or other emergency, I can assure you the hospital staff will provide medical care as a team…even if for some, their only contribution is putting a windshield sun visor under your head.
Gene Uzawa Dorio, M.D.