Caring for those who are hospitalized allows recognition of impalpable forces that go beyond healing skills of doctors and nurses. Many times it involves subtle clues surrounding patients from unexpected sources supporting their health and survival.
Patricia Pelino was hospitalized and recovering from an infection. One day, knowing her nearby son and daughter were out of town, there were flowers at her bedside, not atypical in a hospital setting. Unique though, they came from the SCV Sheriff's Department delivered by Sergeant Jeff Curran. "They're calla lilies" she murmured softly, "my husband's favorite."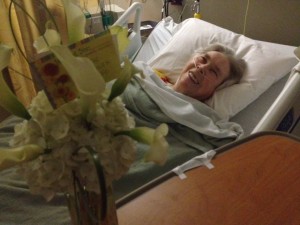 Thirty seven years ago, Deputy Arthur Pelino, a Santa Clarita Valley sheriff, was killed in the line of duty serving our community. Patricia was left a widow, having to raise six children.
Recently in the news is the unbearable thought of your child leaving home and not returning. Just as difficult is the thought your law enforcement spouse might not return home. Understanding our shared fear of these problems may hopefully one day lead to a common solution.
They "courted" for five years, got married and had their family. Initially Art worked for General Motors, but then went though training at the Los Angeles County Sheriff Academy graduating March 19, 1959 so he could serve his community. While he "brought home the porridge", she remained Mama Bear.
Not stereotypic, he didn't like donuts; and was not a drinker or smoker. "Foremost, he had great respect for his colleagues and the public, bringing this sense of responsibility with him to work every day."
"He loved flowers, especially calla lilies, but wasn't a good gardener. Our six kids kept us busy, but he was always there to help me, washing dishes and doing laundry, and trying to keep a neat home. He was a great dad, and a good guy."
Most of all, "every night he would fill my face with kisses, so I would have pleasant dreams, and every day when he left, we would kiss and wave good bye. He was very special to me and kept me warm at night."
Deputy Arthur Pelino was patrolling 30 miles north of Santa Clarita near Gorman when he pulled over a driver, who shot and killed him.  This was March 19, 1978, exactly 19 years after graduating from the LASD Academy. Mama Bear was now alone, but she and her kids still had family, the Los Angeles County Sheriffs who have helped them ever since. "I wouldn't have made it without them, financially and emotionally."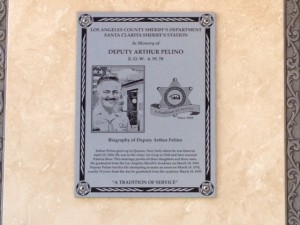 Losing her husband made her suffer, but the resultant verdict against the perpetrator made her irate. "He received three years in prison. It meant to me that's all my husband's life was worth as a law enforcement officer, and it made his colleagues targets."
Over the years, Patricia kept her family together, and two of her children who live in the area acknowledge what a wonderful Mama Bear she has been. She is now bedridden, emotional scars well-healed, and her "family" close by. But there are no more nightly kisses, and no more waves good bye. The struggle was made much more difficult on that March day when her husband didn't return home.
Discharged from the hospital, and as I was leaving her residence, she asked the covers be pulled over her. Shadows of calla lilies were on her sheets.
They are still keeping her warm at night.
Gene Uzawa Dorio, M.D.